---
Bracelets that Shimmer.

Maximise the elegance of your style with the simple addition of a bracelet. For a bride, consider a sparkling diamante or pearl wedding wrist jewellery. Add a statement style for a special event. Some jewellery pieces can take you from your wedding gown to a casual event.
The perfect bracelet design for a bride depends on the overall style and vibe of the wedding. There are a few factors to consider when it comes to unique bracelet designs.
Your personal style is the most important factor when choosing a unique bracelet design. A statement bracelet is a perfect choice if you wear bold and chunky jewelry. A fine and delicate style may be more appropriate if you prefer delicate and understated jewelry.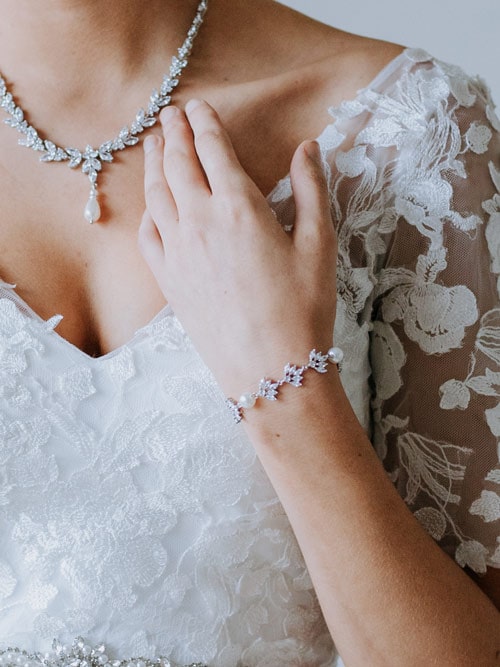 Match bracelets to your gown.
The style of your wedding gown can also influence the type of bracelet you choose. If you have a lot of intricate beadwork or embellishments on your dress, a simple and delicate bracelet may be a better choice. However, if your dress is relatively simple and understated, a statement bracelet can add a pop of personality to your bridal look.
Consider the other accessories you'll wear on your wedding day, such as earrings and hair accessories. If your other accessories are simple and understated, a statement bracelet can be a great way to add a little drama to your look.
Bracelet metal colours
Consider the color scheme of your wedding when choosing a bracelet design. You want your bracelet to complement the colors you're wearing, rather than clash with them.
Ultimately, there is no right or wrong answer when it comes to choosing a unique bracelet design for your wedding day. It's all about finding a design that makes you feel confident, beautiful, and comfortable. Whether you choose a statement bracelet or a fine and delicate style, your bridal bracelet should reflect your style and make you feel like the most beautiful bride on your special day.