---
Add a gorgeous hair accessory to your hair.
Bridal hair accessories are the perfect finishing touch to any wedding look. These tiny but powerful details can transform a bride's hairstyle from ordinary to extraordinary, making her feel like a queen on her special day. From classic and timeless to modern and edgy, there are countless bridal hair accessories to choose from. Let's explore some of the most popular types and how to wear them to create the ultimate bridal look.
Tiaras that will turn you into a princess.
First up, we have the classic tiara. Nothing says "princess bride" like a sparkling tiara. These regal accessories sit atop the head and are perfect for those who want to channel their inner royalty.
You can wear your tiara with various hairstyles, from a classic updo to loose waves. Pair it with a cathedral veil for a truly show-stopping look.
Add wow with a hair vine.
Consider a delicate hair vine if a tiara feels too over-the-top for you. These versatile wedding hair accessories comprise small, intricate details and gems like pearls, crystals, and porcelain features.
You can weave a hair vine into any hairstyle. Hair vines are perfect for bohemian brides, adding a touch of nature-inspired whimsy to any look. Wear it as a headband or weave it into a loose braid for a romantic, ethereal feel.
Versatile hair combs
These minimalist accessories add a touch of sophistication to any hairstyle. A sleek hair comb is a great option for brides who want something a little more modern. Wear one on the side of a low bun or tucked behind an ear for a chic and understated look.
If you're looking for a way to incorporate something old or sentimental into your bridal look, a vintage hairpiece might be just what you need. Pair a vintage hairpiece with loose curls for a retro-inspired look.
These unique hair accessories can be found at our online jewellery shop and can add a touch of nostalgia to your wedding day.
Dainty hairpins wedding hair accessories Australia

 These tiny but mighty hair accessories come in many styles, from simple and understated to ornate and dazzling. 
First, we have the classic pearl hairpin. These timeless accessories are perfect for brides wanting to include traditional elegance in their hairstyle. Pearl hairpins can be worn individually or clustered together for a dramatic effect. They are perfect for securing loose strands of hair or adding a touch of glamour to an updo.
 Crystal hairpins come in various sizes and styles, from delicate and modern to vintage glamour. You can wear or cluster them individually for a more eye-catching effect.
Finally, we have floral hairpins. These nature-inspired accessories are perfect for bohemian or garden-inspired weddings. They are perfect for adding a touch of whimsy and romance to a loose, tousled hairstyle. Floral hairpins come in a range of styles, from delicate and understated to bold and dramatic. They can be worn individually or together in a set of three for a more eye-catching effect.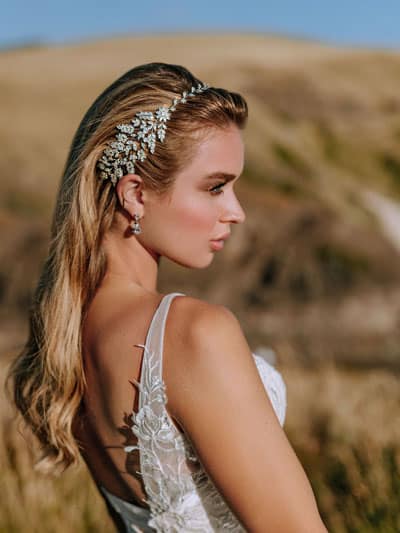 Headbands for maximum effect.



A bridal headband is a hair accessory that wraps around the head and sits on top of the hair. It is typically made from metal, such as silver or gold, or rose gold. It is usually features elements such as crystals, pearls, or flowers. The headband can vary in width, from thin and delicate to wide and statement-making.
When it comes to wearing a bridal headband, there are several options to choose from. You can wear a headband hair accessory with a variety of bridal hairstyles, from sleek updos to loose, romantic waves.
One popular way to wear a bridal headband is to position it towards the front of the head, just above the forehead. Creating a bohemian and ethereal look, especially when paired with loose waves or a messy bun.
Another way to wear a bridal headband is to position it towards the back of the head, just above the nape of the neck. This creates a more classic and elegant look, especially when paired with an updo or a sleek ponytail.