Join us for the first post-lock-down Mornington Peninsula wedding shoot. So we thought we would go for one of Melbournes most spectacular locations, especially at sunset. The cliffs at Flinders are impressive at the twilight hour casting golden hues in a photographer's dream location.
Jewellery on the Mornington Peninsula
A big thank you to our talented photographer LX Creations photography for his eye for detail and attention not only to the model but to the light and backdrop. Also, thank you to our stunning model that knew just the look we were trying to capture.
Earrings from our new collection this range incorporates crystals, pearls and enamel work set in fine wire work in rich gold tones, polished silver and romantic rose gold. Most have bridal hair accessories to compliment. So have fun teaming them in mix and match jewellery sets.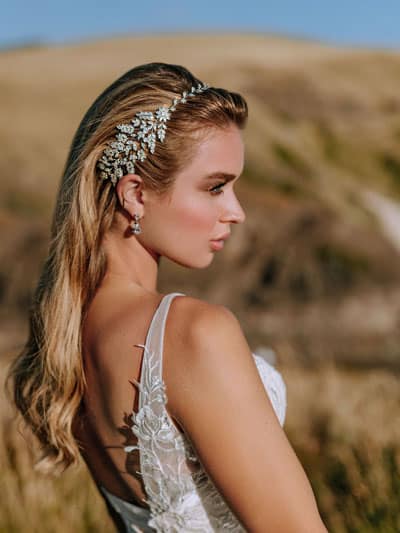 The above shot was taken just coming into the golden hour on the Mornington Peninsula. That gorgeous time just as the sun is setting on a summers day. Capturing the last golden rays of the sun. Makes the jewellery sparkle we featured the Dora silver bridal headband with the Julietta silver teardrop fashion earring.
Wedding dresses on the Mornington Peninsula wedding shoot.
Hello Lovers Australia designs wedding dresses too. Above we have featured the Jolie beaded gown. Totally at home on the rocks at Flinders Beach.
Jolie can be ordered online or come and try this beaded wedding dress on at our Melbourne based wedding shop in the south-eastern suburb of Hallam.
A bridal bouquet featuring earthy tones to compliment the time of day and the dry summer grasses of the Flinders cliffs.
Above we have featured a wedding dress hair comb that features glorious flowers made from porcelain. Scattered pearls and crystals throughout make this wedding hair accessory truly unique. We hope you have enjoyed sharing our Mornington Peninsula wedding shoot.
Stay tuned on Instagram for more gorgeous photos.